Beijing's aim of denying the dissident's supporters a focal point is thwarted by protests from the Chinese coast to the Atlantic
By Tom Phillips in Beijing and Benjamin Haas in Hong Kong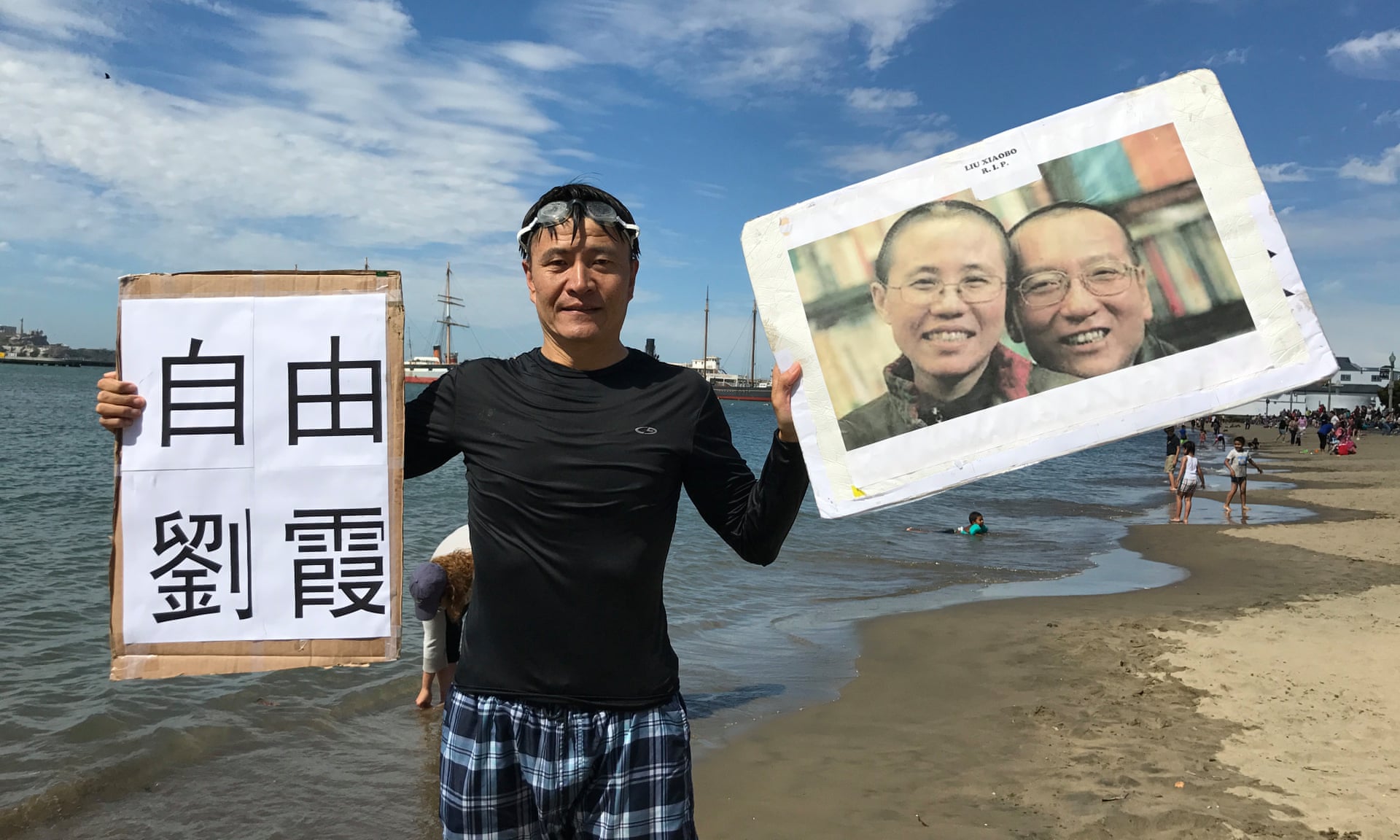 Zhou Fengsuo protests against the death of Liu Xiaobo in San Francisco.
Beijing has inadvertently transformed two thirds of the world's surface into a vast aquatic protest zone, activists have said, after the ashes of Nobel laureate
Liu Xiaobo
were cast into the sea in what friends believe was a bid to submerge his political ideas.
Supporters of the democracy campaigner,
who died in custody last week
, will hold a series of global memorials on Wednesday, the seventh day since his death and a highly symbolic day of mourning in Chinese tradition.
Many of those protests will be held beside – or in – the sea, an allusion to
Liu's controversial ocean burial
which supporters saw as a deliberate attempt to deny them a place of pilgrimage.
"The Communist Party thinks because there is no tombstone we can not commemorate Liu Xiaobo, but in fact the whole sea has become a place where we can be close to him," said
Hu Jia
, an activist and longtime friend.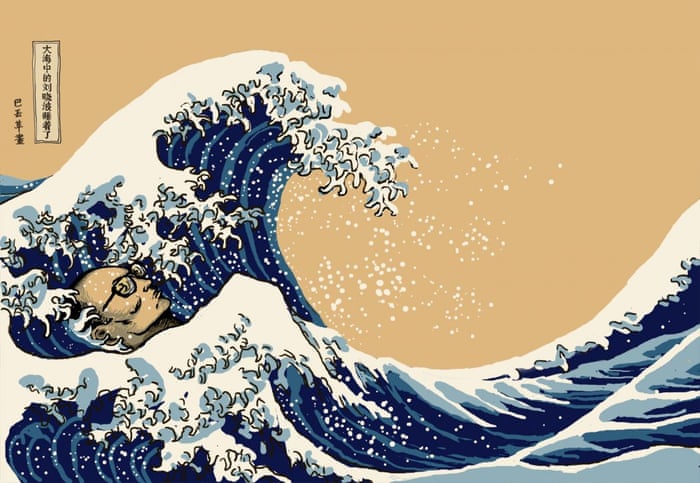 An image used by campaigners to promote the memory of Liu Xiaobo.

Wen Yunchao, a New York-based campaigner, said Beijing had hoped that by consigning Liu's remains to the ocean it could drown his ideas.
"But it backfired – now anyone can go to the sea and mourn."
In the days since Liu's death, activists say watery protests have already taken place around the world including in New York, Boston, Melbourne, London and Hong Kong.
"We are doing this to keep his memory alive," said
Zhou Fengsuo
, a California-based campaigner and Tiananmen survivor who donned a pair of tartan swimming trunks and took a dip in the Pacific to protest China's "senseless" treatment of his friend.
On Sunday mourners, including Wen Yunchao, lit candles and
placed an empty chair
symbolising Liu's absence from the 2010 Nobel award ceremony on the shores of the Atlantic in Queens, New York.
The next day Liu's biographer and friend,
Yu Jie
,
waded out into the waters off Taiwan's west coast
carrying a sign that read: "Mourning Liu Xiaobo: a
martyr of China's democracy
."
There have even been attempts at seaside resistance in China's authoritarian mainland.
Activists
Jiang Jianjun
and
Wang Chenggang
, traveled to Dalian's Laohutan beach, near the site of Liu's burial, and filmed themselves
hurling a bottle into the sea
with a message reading: "Rest in peace, Mr Liu Xiaobo".
Jiang was subsequently detained by Chinese police.
"In China there is a very severe
crackdown on anyone who dares to commemorate Liu Xiaobo's life in public
."
Zhou, who is organising a second waterfront demonstration in San Francisco on Wednesday, said he had been surprised to see Liu's admirers flock to shorelines around the world, without any apparent coordination.
"We didn't even talk to each other," he said.
Many dissenters had found inspiration in
a widely-shared portrait
by dissident artist
Badiucao
which pictures Liu's corpse staring out from a tsunami.
Beijing had deliberately denied Liu an onshore resting place in order to stop his grave becoming a "lightning rod" for anti-Communist party protests.
Activists now had to fight back, using the sea as an offshore rallying ground
:
"The government not only destroyed his body physically but they want to erase him from the collective memory .... We have to [protest] with as much creativity as we can."
"Liu Xiaobo loved the ocean. He loved swimming. To our generation – in the 80s – the ocean was a symbol of freedom and openness," Zhou added.
"So that is where we can feel a connection with him now."